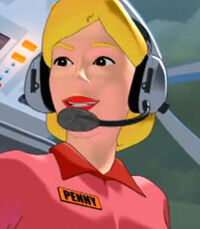 Penny Pooler is a newswoman first seen in the 2003 first feature film Rescue Heroes: The Movie. She is voiced by Katie Griffin.
Biography
Edit
Penny is a daring news reporter, willing to take risks to enhance her news coverage. She works for World Wide News (WWN). During the beginning of The Movie, Penny and her helicopter pilot Tony were flying over a dormant volcano in Ecuador. Insisting that they fly in closer, Penny Pooler and Tony soon experienced engine trouble during the following eruption of the reawakened volcano. Their helicopter crash-landed on the slope, overlooking a pool of lava.
Later, Rocky Canyon and Billy Blazes along with Wendy Waters rescued the trapped passenger and pilot. Upon rescue, Penny attempted to interview Billy at the scene of the rescue site. Not getting much out of Billy, she quickly turned to Rocky for a few words about what it means to him being a world-wide hero. Rocky took the opportunity to bathe in the shower of praises as well as the camera time.
When a new disaster occurred, involving massive lightning storms, Penny Pooler and Tony took to the skies to cover the events. In a forested region where Rescue Heroes were working in, Penny covered the activity but soon offered to help search by air for a missing boy she heard about over the Rescue Heroes' radio channel. They spotted the boy but despite being unable to hear a garbled radio warning by Wendy Waters to not attempt a rescue, Penny and Tony soon crashed again and were trapped.
Penny and Tony were again rescued by Wendy and other Rescue Heroes, taking refuge in fire-resistant domes. It was there that Penny promised Tony that she would never again ask him to take anymore extreme risks. They all escaped once help arrived when Ariel Flyer and other rescue units came and put out the remaining forest fires. Penny later on was seen on the WWN channel giving a wonderful report about the global collaboration of the gigantic lightning rod that was used to drain the massive lightning storm and how the disaster brought the world together.
Appearances
Edit