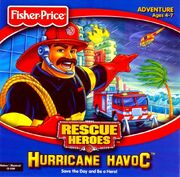 Rescue Heroes: Hurricane Havoc
is a Rescue Heroes PC game, released by Davidson & Associates/Knowledge Adventure in 1999.
Players join the Rescue Heroes Leader, Billy Blazes to become a new Rescue Hero. In the Rescue Heroes Training Camp, players will learn how to save lives in tragedies causes by tropical storms. Players first learn about what a tropical storm is, then they join the Rescue Heroes on training missions on how to save lives in the tragedies the storm caused in a city called Metrobay.
Players could also print out their own Rescue Heroes Gear and even stickers to decorate their computer monitor into their own Rescue Heroes Control Panel.
Training Missions
Edit
Save the Pets
Edit
Players join Billy Blazes to help him put out the fires in the Metrobay Animal Hospital, and then rescue the animals inside the building.
Roadblock Buster
Edit
Players join Jake Justice on his motorcycle, the Justice Cycle, and must bust all the roadblocks that are blocking the roads that were tossed around in the storm so rescue vehicles can get through.
Building Breakthrough
Edit
Players join Jack Hammer at the Metrobay Museum and must use his jack hammer tool to break through each floor and rescue the objects in the museum collection before the flood waters rise too high.
Flood Runner
Edit
Players join Gil Gripper and Nemo and rescue all the people and animals surround by flood waters in flooded areas. The player could either ride with Gil or Nemo.
Helicopter Heroics
Edit
Players join Wendy Waters in the Quick Response Helicopter and must put out fires the storm caused in one area of Metrobay and must also rescue all the people in the area as well.
Characters
Edit
The original Rescue Heroes logo can briefly be seen on one of the Command Center video screens in the ending.