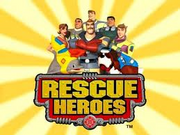 "No one gets left behind". -Rescue Heroes Motto.
The Rescue heroes are a group of men and women who will help thier fellow man no matter what. The rescue heroes work along side rescue personel to help with natural and man-made disasters. They have the most modern equipment and are always ready to help.
Human Members
Edit
Al T.Tude (helicopter pilot)
Al Ninyo (scuba diver).
Aaron Sky (pilot)
Billy Blazes ( firefighter).
Captain Clydes (horse-back police officer).
C.D Moon (astronaut).
Cole Burns (firefighter).
Dewey C.M (locations specialist).
Dustin Rhodes (dirt-bike racer).
Wendy Waters ( firefighter).
Jake Justice ( police officer).
Richmond Rocky Canyon ( mountain climber).
Ariel Flyer ( flight and wildlife specialist).
Jack Hammer ( construction worker).
Aidan Assist ( city rescue specialist).
Al Pine ( artic rescue specialist).
Ben Choppin (lumberjack).
Bill Barker (ground patrol specialist and K-9 unit).
Bob Buoy (Scuba diver submarine oparator).
Bob Sled (artic rescue specialist and animal training).
Brandon Irons (wildlife rescue specialist).
Captain Cuffs (police captain).
Cliff Hanger (hangglider).
Gil Gripper (scuba diver).
Hal E. Copter (helicopter operator).
Holden Breath (scuba diver).
Ivor Clue (police constable).
Justin Time (police officer).
Kenny Ride (bicycle policeman).
Matt Medic (peramedic).
Manny Hattan (firefighter).
Marshall Artz (martial arts specialist).
Marshall Law (martial arts specialist. It is belived Marshall Law is related to Marshall Artz).
Maureen Biologist (ocean rescue specialist and rescue diver).
Moe Zembeek (wildlife explorer).
Moriss Code (communications specialist).
Pat Pending (cheif equipment designer for the rescue heroes organization).
Perry Chute (parachuter and parasailer).
Phil Canteen (army specialist).
Red Wood (park ranger).
Reed Marsh (explorer.
Rex Steal (construction worker).
Rip Rockefeller (construction worker and mountain climber).
Rock Miner (safety spelunker).
Roger Houston (astronaut).
Sandy Beach (lifegaurd and safety specialist).
Sam Sparks (firefighter)
Sergeant Siren (police sergeant).
Seymore Wilde (animal rescue specialist).
Storm E. Night (army soldier, location specialist).
Sam Trap (locations specialist).
Telly Photo (he used to be a camera man for FP-TV but now films archive footage for the Rescue Heroes).
Thurston Nomore (wildlife rescue specialist).
Ty Phoon (water rescue specialist).
Warren Waters ( director and cheif of operations).
Willi Wachtmeister (german police officer).
Willy Stop (traffic officer and crowd control specialist).
Val cano (lava squad cheif).
Animal Members
Edit
 Akido (panda).
Burly (bear).
Buster (german shepherd).
Claude (cougar).
Comet (monkey).
Dale (horse).
Fang (wolf).
Glades (alligator).
Jabs (kangaroo)
Koyle (snake).
Mako (great white shark).
Nemo (dolphin).
Pounce (black panther).
Radar (bat).
Rescue Bob cat.
Rescue Hawk.
Rescue Whale.
Rolls (armadillo).
Smokey (dalmatian).
Specs (owl).
Snow (sled dog).
Spotter (cheetah).
Swinger (gorilla).
Swoops (bald eagle).
Tides (sea turtle).
Tundra (penguin).
Tusk (elephant).
Wind Chill (St. bernard).
Winter (sled dog).
Robot Members
Edit
10-4 (police robot).
AstroBot (space robot).
Back Draft (fire robot).
Back Hoe (construction robot).
Blast-off (space robot).
Bumperbot (robot).
C-Ment (construction robot).
Clampdown (police robot).
E-ject (air specialist robot).
Ember (fire robot).
Firestomper (fire robot).
Goggles (diving robot).
Hyperbot (robot).
Keytron (space robot).
Responder (medical robot).
Robby (robot).
Robo helper (robot).
Tectonic (mountain climbing robot).
Wibbit (robot)
Human Member gallery
Edit
Animal Member gallery
Edit
Robot Member gallery
Edit